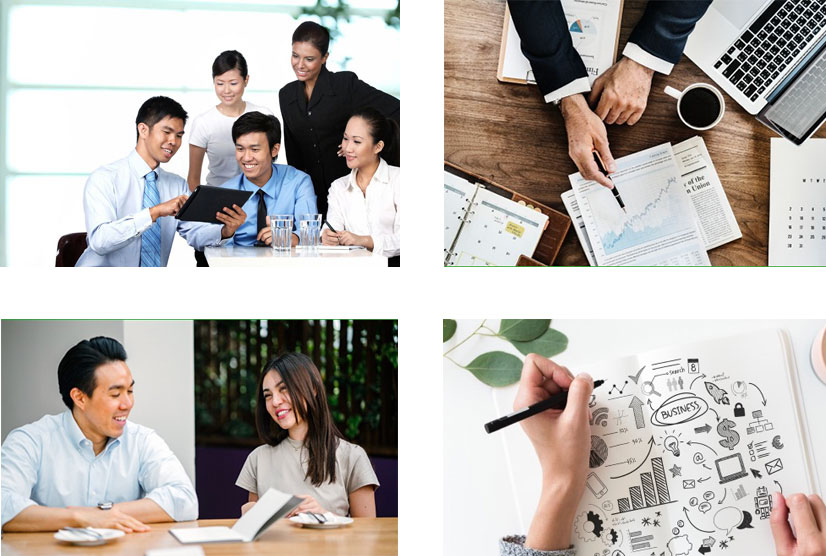 We have earned the trust of our clients over the years and successfully completed multiple transactions on account of the quality and caliber of our team. Several of our senior dealmakers have been in top management positions at multi-billion dollar corporations or actively involved with large family owned businesses. Our senior team has the advisory experience and problem solving capability which has been acquired from managing deals and businesses through economic cycles, bearish markets, tight money policies as well as industry booms and irrational market exuberance.
Our approach to successful deal making and in establishing a valued relationship with a client is based on the following considerations. First, each and every engagement is led by a senior dealmaker that remains with the client until the completion of the deal. Second, we spend the time and apply our analytical framework to understanding clients' businesses, assessing the feasibility of alternatives and opportunities as well as the relevant risk management issues. Third, we draw upon the best concept, connection and competence to achieve a successful deal for all parties.
Our team is led by senior dealmakers with a history of international experience and corporate finance expertise
Joseph Santoso
Joseph has over 23 years of corporate finance experience completing many cross-border M&A and joint-venture transactions, financing transactions including debt and equity linked issues, IPOs and business valuations on behalf of Asian businesses and international companies.
Joseph started his investment banking career in 1987 with the Long Term Credit Bank of Japan in Jakarta and did a stint at Peers &Co, a Wall Street merchant bank owned by LTCB in 1991. In early 1994 he relocated to Singapore to join Morgan Grenfell Asia (now known as Deutsche Bank) as a senior investment banker. Previously, Joseph was also at Deloitte (Singapore) leading their corporate finance and valuation businesses and since year 2002 he has been with AV CAPITAL which specializes in corporate finance businesses.
Joseph has been with AV CAPITAL since year 2002 where he specializes on M&A transactions and business valuations. Joseph received both his Bachelor's and MBA degree from San Francisco State University.
Alan Lui
Alan has over 28 years of corporate finance and investment management experience in serving pension and endowment funds, business firms, investment banks, asset management firms and institutional investors.
Alan started his career as a investment analyst for Callan Associates, a San Francisco based pension consulting firm. He later relocated to Los Angeles to join, as an investment advisor, Pacific Mutual Life Insurance Company which owned the world's largest fixed-income investment advisory firm, Pacific Investment Management Company (PIMCO) led by renowned money manager, Bill Gross. Later he joined and became a director of the largest U.S. minority owned money management firm, Amervest Company, specializing in fixed-income investment management business. While at Amervest, Alan completed several fund-raising transactions including a $25 million deal for a U.S. film financing firm called Hollywood Entertainment Limited Partnership, and Alan also advised and raised debt capital for institutional clients such as Hong Kong Mass Transit Railways.
Alan has been an active research director in finance throughout his career. For example, he wrote a computerized U.S. stock trading model using options to enhance investment returns in 2011 and generated excellent investment track records. Alan frequently wrote and spoke on investment topics. In 1987, he developed a process to calculate fair coupon rates for bonds with embedded pre-pay options using a binomial option pricing model. Given his expertise, in year 2011, he was retained by a Singapore publicly listed firm to advise on the fair value calculation of loans with embedded options issued by International Finance Corporation, an affiliate of the World Bank
Alan has been with AV CAPITAL since 2002 and specializes in cross-border US –China corporate finance transactions and business valuations. Alan graduated with an MBA from San Francisco State University and has been a Chartered Financial Analyst (CFA) since 1991.
Liana Anjelica
Liana heads up the MarCom (marketing and communication) function at AV CAPITAL by applying her 12 years of marketing and business experience working in the banking and finance industry Liana started her career as a management trainee with Bank International Indonesia (BII) in 1987, joined Panin Finance in 1994 and later worked at Citibank (Singapore) in 1999.
Outside of her time with AV CAPITAL, Liana is also actively involved with social groups and charitable organizations to alleviate poverty and improve education in Asean countries. Liana serves on the executive committee of social non-profit organizations such as Ikebana International Singapore and charitable outfits such SFG Indonesia, which is now part of Indonesian Overseas Alumni group and Secret Garden-KK Hospital Outreach Program (Singapore Expatriate Community Charity Fundraising Program). She had also served previously on the Executive Committee of the Singapore Film Festival in year 2002.
Liana graduated with a diploma from a Singapore business institute and was awarded with Business Management diploma from an Indonesian college. She has also earned her certificate of completion under Singapore CMFAS Examination 4A pertaining to corporate finance advisory.